4. LUXURY GARTERS - Luxury Garters | Personalised Garters | Couture Wedding Accessories UK
livepages::jquery();?>
Luxury Garters - Handmade Lincolnshire UK
Dream Wedding Garters Designed For You!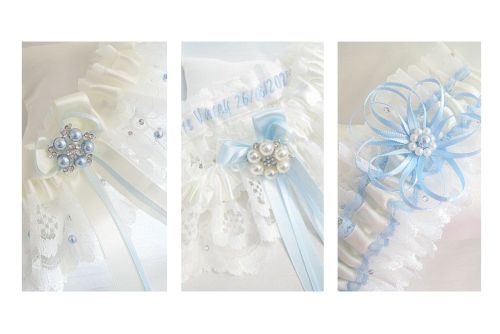 Products In This Category:
Showing 1 - 18 of 18 results
In this catergory I have my luxury garter designs which are a little bit more detailed and fancier.
I try to make my designs as unique as possible.
The crystal work is my absolute favourite, it's very time consuming but the results are always worth it. All my rhinestones and crystals I use are Swarovski, to give the best finish & sparkle!
I have a huge stock of Berisford ribbons, far too many to list so if you have a shade number you would like matched just ask.
I spend a lot of time sourcing gorgeous laces and crystal embellishments from the UK and overseas. I am constantly adding to my collection and always have several new ones waiting to be made up into something stunning.
If you have an idea but none of my Garters are quite what you are after please do give me a call to have a chat about the style you would like.
I specialise in Personalised Garters and as they are all made to order I can make for extra small or plus size brides, so size is never an issue. Don't worry about losing any of the frills in larger sizes, I always add extra lace or satin to allow for it so it won't alter the look.
I have been dress making for over 30 years, taught by my Mum when I was young. The best Christmas present my parents ever bought me was a treadle sewing machine, from that moment on I was hooked on sewing. For extra speed I've now upgraded to an industrial machine!
I'm now based in a beautiful village in Lincolnshire and am able to post all orders all around the world.