Something Blue Or Something A Little Bit Different?
Posted on
Would You Like To Tweak A Garter Design?
I make all my garters from scratch, to order. So if there is a design you like but the colours are not quite right just let me know the colours you would like. I have a very wide range of colours available for the ribbons, embroidery threads & trims.
So you can go for the tradtional something blue or go crazy with colours as bright as you like. Mix & match as many colours ass you like.
I also offer a colour matching service. If you are using a particular shade in a ribbon or fabric, post me a small sample and I will match it up as close as possible.
The embellishments on all my designs can be swapped around.
Some of the designs on my site are ones created from customers idea's, I quite often even name them after the bride herself!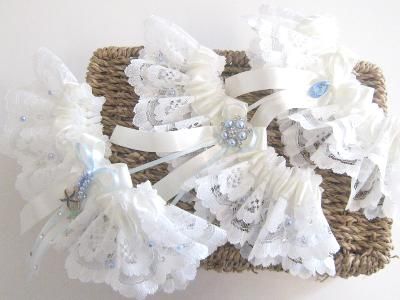 Extra Special Touches
All my designs can be stitched with personalised details either on the front of the garter or the inside back. Embroidery details that most brides choose to have is her new married name or the date of her wedding but you may choose something else. I can embroider the couples first names or initials or even a short message, maybe something from the Mother of the bride.
If you need help choosing what to have I'd be happy to help.
Another extra to add is a sixpence coin. This can be stitched with a sixpence bag or tied on with a ribbon bow. The silver sixpences are dated from around the 1950's - perfect for the brides 'something old'. If there is a specific year that is sentimental to you let me know and I will see if I have that year for you.
Do you have something sentimental to you that you would like added?
I have added all sorts of things to bridal garters. Pandora charms, locks of hair & fabric from a special piece of clothing. One of my garters was made from a grandmothers wedding dress that had sadly died and it was the brides way of having her be part of her very special day.
If you would like something added please do get in touch and let me know what it is. I can then come up with an idea of how I can work it into a design.