Tradition Of Something Blue On Your Wedding Day
Posted on
The Tradition Of The Something Blue

The custom dates back to the 1890's with the bride wearing 'something blue' on her wedding day. The traditonal poem is-
Something old, something new, something borrowed and something blue, a sixpence in her shoe'.
Many years on - 2020 - and the poem and tradition is very much still going!
The colour blue is said to symbolise purity, love & fidelity.
So How Do You To Bring The Something Blue To Your Wedding Day
The obvious is a blue wedding garter-
The garter itself can be made in blue or if you want to be a little more discreet choose to have your bridal garter made in all white or ivory with the blue hidden on the inside in the form of embroidery in blue, this can be the wedding date or brides new name.

What If Garters Are Not Quite Your Thing?
Garters are not to everone's taste and so a bridal pin might be a better option-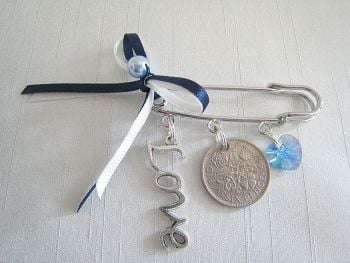 With a bridal pin your something blue & something old is covered - Blue swarovski crystal & pearls and a 1950's silver sixpence. These pins can be pinned onto your wedding bouquet or maybe on the underneath petticoat of your wedding dress.
Another Option Is A Personalised Handkerchief
Embroidered with the couple names & wedding date this hankie makes a wonderful keepsake to treasure.
Brides Dolly Bag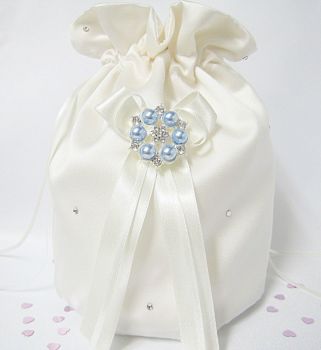 This bridal bag has the blue element plus is handy to hold all the brides essentials - two in one!
.....
I hope these idea's for your 'something blue' on your special wedding day help!