Football Wedding Garters - Any Football Club Can Be Made
Posted on
Would you like your a football or rugby garter made to surprise your new hubby?
I can make any FC team whether it be an international or your local footy team. Just let us know the team name to be embroidered along with their colours and we will create it for you!
There are several designs for you to choose from or create your own!
If you need any advice on teams or colour choices please do get in touch. I have hundreds of shades available for the ribbons and embroidery.
If your FC team has more than one colour to their football kits then you can choose as many colours as you like for the trims and embroidery.
Shop Here For More Football Garters Designs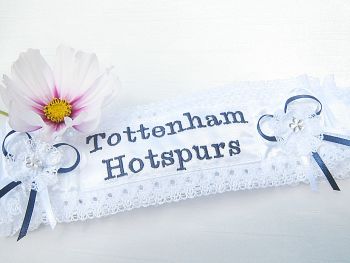 This team garter is made from a satin fabric with a delicate lace running along the top and bottom. Choose any colour for the bows and name embroidered on the front. I will make the bows to match the embroidery colours.
Surprise your hubby and create a giggle on your wedding day!